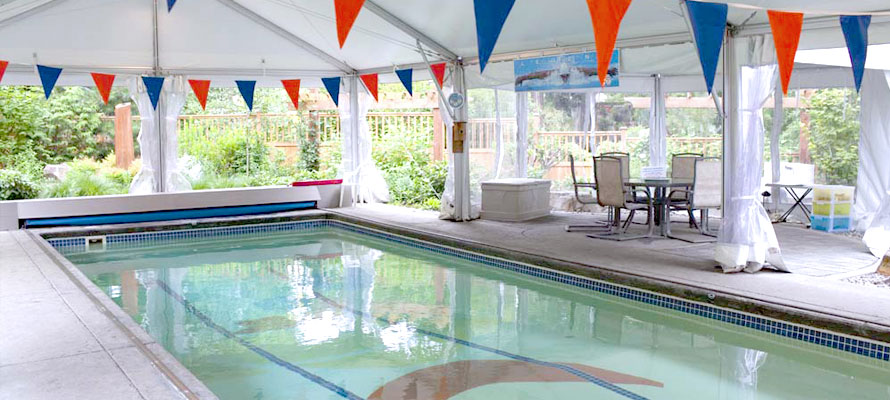 Testimonials
My five year old son was a very reluctant swimmer when he joined Angelfish Swimming a few months ago. Since then, he has made great progress and now even enjoys his lessons! Miss Connie's approach is terrific, both patient and encouraging, whilst making progress every lesson. The small class sizes are great and all the kids receive special attention. We are very happy to have found your swim school!

Best Wishes - Maggie
Miss Connie is an amazing swim instructor. She instantly gains the children's trust and encourages them every step of the way! My children would swim with her every day if they could.

Deanna Sanford
Miss Connie is an amazing swim instructor. She instantly gains the children's trust and encourages them every step of the way! My children would swim with her every day if they could.

Deanna Sanford
From the first time my kids and I met Miss Connie, she made us feel welcome and loved and part of her swimming family. She has a wonderful way of helping each child realize how special they are and encouraging them with positive reinforcement and a consistent, safe learning environment. I have been amazed at how quickly my (then 2) now 4 year old twins have learned how to swim, all thanks to Miss Connie!
I love swimming at Angelfish. The teachers are no nice and now I am a really good swimmer.

Taylor Isaacson - 1st Grader
I have tried other swimming programs and hands down, Angelfish is worth the money. You get to see progression after every lesson. The environment is fun but also very focused. All three of my kids love it and I am thrilled to see how well they have learned to swim so quickly and how they have developed a true love for swimming.

Janet Isaacson - Mom of twin 3 year olds and a 6 year old
Miss Katie is a treasure. She understood the value of making a promise (your hair stays dry today, we're going to swim on top of the water) and stuck to it. She built trust early. She made swimming the incidental thing they were doing, they were really playing with toys in the water and scooping ice cream and doing trains and rockets. It all happened *in* the pool. She used distraction, games, songs and toys to make him forget that he was.. SWIMMING! She felt out his limit (that floating starfish was about as far as we were going to get, which frankly, is an absolute miracle) but never pushed him beyond his actual fear point, simply played *at* the discomfort zone, never getting him to the point of actual fear.

She showed by example how to go under the water, she showed how to clear her mouth of the water on it. He kicked. He paddled. He PLAYED. He'll copy her over time.

And, it worked. We are totally hooked – and thrilled. He'll gain skill from that positive reinforcement and the accepting, fun, lead-by-demonstration attitude of Miss Katie. He'll dunk himself by accident, but that trust he's already built with Miss Katie will make it an incidental dunk instead of a panic – and, he'll respect the water because occasionally, he'll sputter. Probably not the next lesson, and maybe not the one after that – but at some point he'll take a step off that ledge and dunk. But, Miss Katie will be there to distract him and lead him into something new.
When our son started with Angelfish he had had lessons from a very young age, around 9 months, but had never developed comfort in the water. Through gentle confidence building, Miss Connie has helped him transform from a child afraid of the water and getting his face wet to a child who is learning to swim on his own and who looks forward to pool time. He now approaches swimming with confidence and joy. Miss Connie is in a class all her own. We have also had great success in our classes with Miss Katie.

Eric and Mary Oemig
Thank you so much for all Angelfish has done for Henry. His water confidence and basic swim skills have come such a long way since the first day when he didn't even want to get near a pool. He has never once in a year of lessons (even in the bitter cold winter months) refused to go to a swim lesson. That's a real testament to Miss Katie and the program. He views it as another opportunity for fun.
Both of my girls have learned to swim at Angelfish under Connie's kind and thoughtful teaching techniques. Swimming is their favorite part of the week. As a parent I wanted to make sure my children were safe around water. Now they are competent lap swimmers as well. I recommend Angelish Swimming to all my freinds.

Sincerely, Amanda Sepe
Miss Connie's patient, warm, encouraging personality makes children of all levels want to improve.

Samantha Vamos