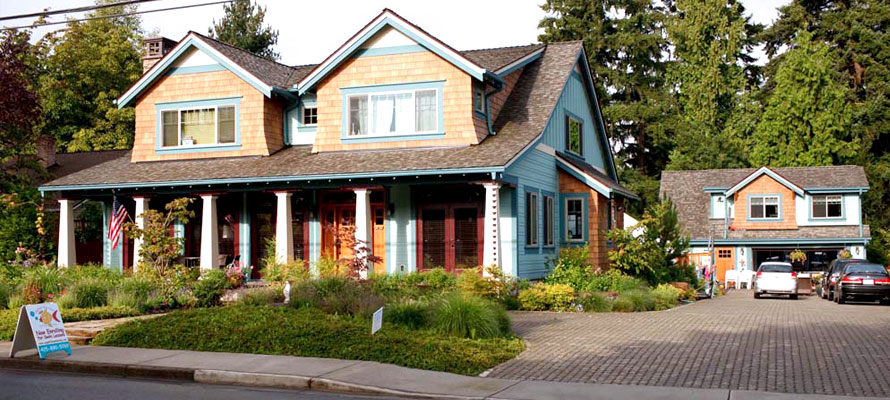 About Angelfish Swimming
Angelfish Swimming offers lessons to children of all ages, including adults. Bring your children to a safe environment with fun and talented instructors then learn to swim for a lifetime. And throw in a pool party for the fun of it.
Children from 6 months and up are taught how to love the water and how to be safe as they learn to swim. The philosophy of Angelfish Swimming is to take the fear out of the water and give the tools needed to be safe and to have fun. Classes are offered on weekdays from 9-5. No weekend classes offered.
Swimmers learn from our own learn to swim program, developed over years of experience, proven results and thousands of satisfied swimmers.

Mom/tot classes start at 6 months and go to around 15 months (or when your swimmer is a confident runner). Each swimmer will learn how to go underwater, actually learn to swim short distances, back float etc. Parents learn how to hold your swimmer for the best learning environment and are encouraged to relax with their swimmer and enjoy the water together.
Toddler classes start around 15 months (or when your swimmer is a confident runner) to 2 ½ ish. Swimmers learn to play on the bench without the parent in the water. We start introducing strokes and learn how fun the water can be.
2 ½ to 4 year old classes work on all strokes with our goal that they can swim 10-15 feet by themselves and start learning to swim the length of the pool with help.
4-up swimmers are on the quick path to learning. Our system turns their fear into fun and they find themselves swimming and by 6 years old we want them ready for swim team!!
Special needs students are encouraged to develop their water safety skills in a positive and fun environment. Several of our special needs swimmers have gone on to Special Olympic swim teams!
The instructors are all trained by Connie Chapin in her own Angelfish Learn to Swim system that really works! Connie owns the business and teaches classes as well. All the instructors love what they do and have as much fun teaching as the kids have learning.
The cozy backyard pool is located in the Kirkland Highlands neighborhood and offers a safe environment to learn to swim. ABC's Extreme Makeover Home Edition selected Connie and her family in 2007 and transformed her pool and home into a terrific place to learn to swim. Facilities include a tent covered pool with water kept at 90oF, bathroom, changing room and plenty of seating for parents to watch classes.
Pool parties are available to all registered families. The party room is near the pool, parties are 1 hour in the pool and 1 hour in the party room for up to 10 children. (Max swimmer capacity is 15, additional fees apply).
For more information on how to sign up for lessons or schedule a pool party please click here.